Set Up A Protocol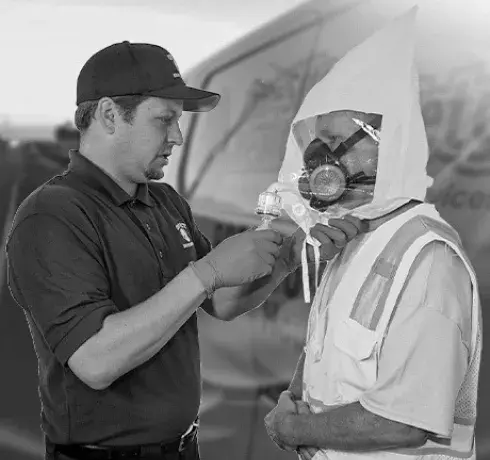 In just a brief, five-minute phone consultation, we gather all the information necessary to get your company set up to receive the services you need, and what protocols you wish to have followed.
From post-accident drug screens, breath alcohol testing, and respiratory services to getting dialed in to receive our industry-leading, 24-hour mobile first aid response…On-Site has your health and safety needs covered.
Explore all steps
I first worked with On-Site Health and Safety while working in construction safety for a large mechanical contractor, yet recently made the move into retail, becoming the Corporate Risk Manager for WSS Shoe Stores. I quickly made meeting with On-Site a priority to discuss whether or not we could achieve the same results of lowering our recordable incident rate in retail as they did in construction, and we decided to give it a shot. Did it work?...YOU BET! A full 90% of the cases they handled for us in 2015 were managed as first-aid only. I am here to tell you, Onsite Health and Safety is NOT just for construction. They have been equally successful for me in the retail industry. With a company as expansive as WSS (75 locations in California, Arizona, and Las Vegas, Nevada)...we make sure the poster for On-Site Health and Safety is on the wall in the break room of every one of our 75 stores!
Joe Rodriguez
Risk Manager—WSS Shoes
On-Site has been working with Flatiron for quite a few years and have been outstanding to work with. Flatiron has used On-Site for First aid treatment, substance abuse testing, and various training. Every tech is professional and courteous. Virginia and Zulema have obtained and manage a great staff. Flatiron will continue to use On-Site's services and recommend them to anyone who is seeking the services they provide.
Gade Mobley
Benicia District Safety—Flatiron West
On-Site's services are the foundation to our post incident response. They're the first call we make in non-life threatening events. The training services they offer are a complement to our already very extensive in house training programs. On-Site picks up what we miss or we use them to add to what we already have. Thanks for being there all these years.
Wesley Baker
North West Regional EHS Manager—Environmental Health & Safety Safway Group Holding
The knowledge imparted regarding exposures and protection were a morale builder for employees as well. Our experiences regarding customer service have been very positive with responsive, real-time, cooperative, and understanding technicians and management.

On-Site's service is a real benefit to construction employers and should be part of any plan for medical services and first aid compliance. We continue to recommend On-Site Health & Safety's services to other prospective companies and organizations
Bob Downey
President—Red Consulting
On-Site Health and Safety has been a valued service to us since early 2000. They are a professional organization that continues to provide us with an extensive array of safety services. They help improve our operations by keeping First Aids at the First Aid level, if at all possible, which is good for the company incident rate. I have recommended On-Site Health and Safety to the subcontractors we come across and their name and number are posted on all of our jobsites.
Frank Werbelow, Jr.
Safety Director—DPR Construction Inc
Their First Aid response saved us thousands of dollars in costs. When a worker received a small cut, something in his/her eyes, small burns, or even contusions, small strains, and sprains, On-Site would respond within an hour to the job site where the individual was injured. 99% of the time, the injury would remain a first aid case.
Ken Esse
President—ESSE Construction Safety Support, LLC
On-Site's staff and technicians are professional, courteous, and knowledgeable, and response times are always within an hour. All of our cases to date have remained First Aids, costs have been kept low, and the negative effects of the injuries (time wasted sitting at a clinic, loss of productivity, adverse impact on incident rate) have been kept to a minimum.
Sharon Barowsky
Risk Control Manager—Rosendin Electric
On-Site Health & Safety provides trained, experienced and prompt professional care to injured employees. NOVA Group is extremely satisfied with their ability to arrive quickly and provide first aid. We highly recommend their services.
Cole Davis
Safety Director—NOVA Group
For over twenty years and counting, On-Site Health & Safety's industry-leading services have set the bar regarding 24-hour mobile response.